Best Family Caravan Parks UK
Posted by:
Admin
Tags:
Posted date:
25-08-2022
This article looks at the best UK family touring caravan holiday destinations. Find out more about the top family-friendly caravan holiday parks for you to visit.
Best UK Family Touring Caravan Holiday Destinations
One of the best parts about owning touring caravans or motorhomes is that you can enjoy the numerous caravan parks throughout the country. There's plenty to choose from, with each offering every holidaymaker something unique to their location. However, as many caravan owners will know, many of these sites offer adult-only spaces, with limited choices for families.
But this is where our list comes in. In this article, we'll take you through some of our favourite family caravan sites here in the UK. Alongside offering touring pitches or hard-standing pitches for caravans and motorhomes, most of these camping sites offer additional accommodation, such as static caravans or lodges. Therefore, even if you don't have a caravan but simply want to enjoy the outstanding natural beauty of the UK, we're sure there's a site out there for you and your family.

Top Family-Friendly Caravan Holiday Parks
One of the greatest things about owning a caravan is the freedom it provides. You can take off any time you like on an adventure whenever you please. This is especially helpful for parents who want their children to experience all that the great outdoors has to offer. However, with such a wealth of choices here in the UK, it can sometimes be tricky trying to decide where to go.

But this is all thanks to the great British public's passion for caravanning. While this means there may be too much choice to make sense of, it also means that the quality of the caravan parks throughout the UK all offer excellent facilities. Whether you want somewhere with plenty of children's outdoor activities and local attractions to keep your little ones happy or somewhere quiet and relaxing, there is a park to suit your needs.

So, if you and your family are looking for some child-friendly UK holiday parks for your next adventure, look no further than our list. We'll take you through the different options we've put together and what they have to offer. This way, we hope to provide you with a little inspiration with some truly fantastic destinations we're sure you're going to love.

Perran Sands Holiday Park
When you think of the traditional caravan holiday destination, the likelihood is that you think of Cornwall. And this is exactly what we thought for the first entry in our list.
There's so much to do in the area around the Perran Sands Holiday Park that you'll have no trouble keeping yourself and your family entertained.
Whether you want to try surfing in Newquay, explore the world-famous Eden Project, or simply want to take in the views along the sand dunes of Perranporth, there's more than enough to choose from at Perran Sands. When it comes to child-friendly attractions, Perran Sands Holiday Park has everything you need.
From indoor and outdoor swimming pools to roller-blading, sports facilities and adventure golf, you can keep the little ones entertained for hours.
They also host entertainment shows in the evenings and during the day. If you want to bring the entire family with you, Perran Sands is also welcoming to pets.

Sandford Holiday Park
If the south coast is more to your tastes, then the Sandford Holiday Park in Dorset is a great location to choose. There are plenty of family-friendly attractions to choose from nearby, including the Dinosaur Museum, Adventure Wonderland and the Dorset Heavy Horse Farm.
Of course, if you're heading to the south coast, you'll want to enjoy everything the English Channel offers, such as relaxing on the blue flag beaches of Bournemouth, experiencing the amazing Durdle Door or fossil hunting along the Jurassic Coast. If the kids want something to do between visiting attractions, Sandford has enough to keep them busy.
Again there are indoor and outdoor pool facilities, crazy golf and a wildlife nature trail for intrepid explorers. For the sportier ones in your family, they also offer pedal-karts and bicycles for hire, along with numerous tennis and general sports courts for you to use.

Waterside Holiday Park
Over in Essex, you'll find the Waterside Holiday Park, with its beautiful surroundings in which you could spend days happily relaxing. With only a 40-minute drive to the nearest beach, you can spend your mornings fishing at the on-site lake or crabbing before returning to unwind in their on-site spa and sauna facilities.
And don't worry about your kids; they can head to the indoor on-site swimming pool and have a splash while you take a break. Waterside also offers fantastic guided activities for children to enjoy, alongside entertainment for some wholesome family fun.

Wild Duck Holiday Park
You could be forgiven for not knowing about this hidden paradise of woodland bliss, but the Wild Duck Holiday Park is a mere 3-hour drive from central London.
From here, you can hire a bike to explore one of the many adventure trails through the surrounding forest. Once you get back, you can spend the evening at one of the various entertainment shows they host.
Alongside these, Wild Duck also has outdoor and indoor pools, a crazy golf course, direct access to sandy beaches within walking distance and a treehouse.
There are few places better suited for keeping kids entertained while on holiday. If you live in the local area around Norfolk or fancy visiting somewhere a little farther afield, then Wild Duck Holiday Park should definitely be on your list.

Skipsea Sands Holiday Park
If your ideal caravan holiday would be further north, then the Skipsea Sands Holiday Park is the one for you. Sitting on the edge of the beautiful sands of Fraisthorpe Beach, looking out into the North Sea, there are enough vistas to keep you in awe throughout your visit. If you fancy a little more wilderness on your adventure, the North Yorkshire Moors are an hour's drive away to the north.
In terms of kid-friendly facilities, Skipsea Sands has everything you could need. Alongside the short journey to the beach and fishing lakes, they also have a heated indoor pool, tenpin bowling and an adventure playground. You'll have no trouble finding something to keep the whole family entertained throughout your trip.

Church Point Holiday Park
For those who like a stunning sea view when they pitch their caravans, Church Point Holiday Park is the perfect holiday destination. Half an hour outside the centre of Newcastle, the park itself is only a short walk from the newly rejuvenated beach at Newbiggin-by-the-Sea.
As you can imagine, there are enough coastal walks to keep you busy for your entire stay. But, if you need something for the kids to do, nearby Sandy Bay has an adventure playground and a multi-sports court, with regular football and archery events.

Todber Valley Holiday Park
This scenic country retreat can be found in the gorgeous Ribble Valley in Lancashire. With stunning views on all sides and Forrest of Bowland just a short drive away, there's no shortage of areas of outstanding natural beauty to bask in.
While it's the perfect place to take a break from the hustle and bustle of day-to-day life, if you want something a little more adventurous, there's always the Yorkshire Dales National Park nearby.
Todber Valley Holiday Park also has a warm welcome for families of all sizes. They are pet friendly and have great facilities to keep your kids happy for hours on end.
With a sports field, playground and walking or cycling trails, you've got no reason to sit in your caravan (unless you want to, of course).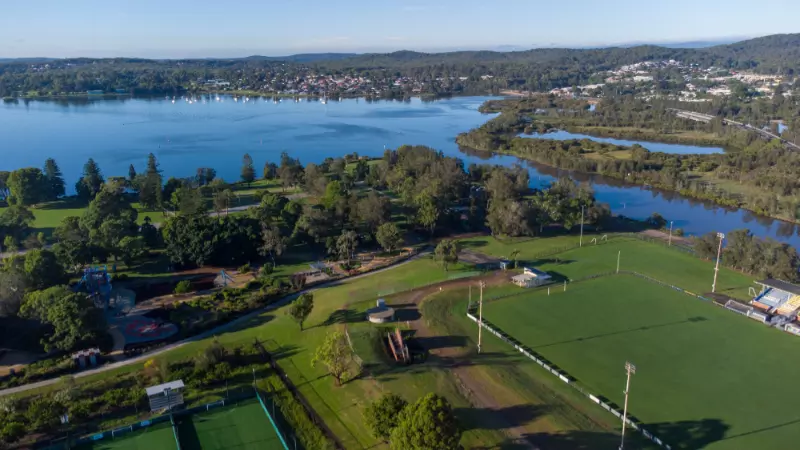 Red Shoot Camping Park
Ideally located between Bournemouth and Southampton, the Red Shoot Camping Park is a superb caravanning destination only a few hours outside London.
There's no shortage of stunning places to visit, from the beaches of the south coast to the New Forest National Park to the north. The site itself is family owned and configured to cater to families. For children's facilities, you have your choice of walking and cycling trails and outdoor adventure play areas.

Thorpe Park Holiday Centre
Thorpe Park Holiday Centre offers you the perfect caravan holiday pitch to head out from for all the different attractions throughout Lincolnshire. Whether you want to head for the child-oriented Fantasy Island or the Natureland Seal Sanctuary, Thorpe Park sits in the middle of it all.
They also have everything you could need to entertain the kids. From an entire water park to adventure golf, climbing walls to entertainment shows, course fishing to local beaches - there is truly something for everyone.

Lady's Mile Holiday Park
Back in Cornwall, we find the Lady's Mile Holiday Park. This park has been run by the same family for over 60 years and provides some of the best caravan sites in the country.
With this kind of reputation, there's no way the typical British weather could ever ruin your trip.
With a heated outdoor swimming pool and hot tubs, an adventure playground and an indoor soft play area for the kids, the whole family can enjoy themselves, kick back and relax here.

Dulhorn Farm Holiday Park
Dulhorn Farm sits over in the southwest, between Weston-Super-Mare and Brunham-on-Sea. Thanks to the location, you have your choice of coastal retreats from your pitch, with Westen Brean and Burnham-on-Sea a short distance away. Being a working farm, you can also take your kids to see some of the animals they have on site.
Alternatively, they also provide a range of activities, such as a sports field, football pitch and basketball nets. Alongside offering spacious pitches for caravans and motorhomes, they have bookable electric and non-electric tents and cottages for families of all sizes.

Holland's Wood Campsite
Holland's Wood sits on the edge of the New Forest, giving you and your family endless amounts of wilderness to explore. You might even see some of the local wildlife, including the New Forest Ponies or the odd deer roaming through the surrounding countryside. While it may seem a little sparse, it's the perfect place to get back to nature and escape city life.
They have modern on-site amenities and shower blocks to ensure you have the necessities, but otherwise, it's a natural oasis of calm. If you want to give your children a more naturalistic getaway, this is the perfect place to bring them. With all that nature to explore, there's no telling what adventures they can have.

Brighton Caravan & Motorhome Club Site
If you want something a little closer to civilisation, then the Brighton Caravan and Motorhome Club Site is the place for you. You can find it close to the marina, with a variety of attractions nearby.
Whether you fancy a meal out in one of the local restaurants, catching the latest releases at the cinema, or spending a day at the amusement arcades, there's plenty to do.
With numerous electric and non-electric pitches, this site has everything you could need for a caravan or motorhome holiday.
It's the perfect place to start if you want to explore nearby Brighton and has a fully furnished playground to keep your children entertained while you relax.

Camber Sands Holiday Park
Recently refurbished, the Camber Sands Holiday Park is one of the best caravan parks to bring your family for a caravan holiday. With a host of happy regulars, there's a real community feel to this spot. Given this, there's no need to worry about your children finding new friends to play with, as it's a firm favourite for caravanning families.
Alongside the static caravans, you can book, they also offer fantastic pitches and a touring park for tourers and motorhomes. In terms of facilities for the kids, Camber Sands family holiday park has an indoor pool, local beach, mini golf and an adventure playground.

Doniford Bay Holiday Park
Doniford Bay is yet another fantastic place to visit in the southwest. With endless beaches and rock pools to explore, alongside the nearby Quantock Hills, there's no shortage of new areas of outstanding natural beauty to adventure in. Regarding the site itself, they offer static caravans for hire, as well as pitches for tourers and motorhomes.
They have an indoor pool and adventure playground for the kids, alongside daytime and evening entertainment for all the family. There's little to want for here, with one of the best family-friendly caravan parks in Somerset.

Andrewshayes Holiday Caravan Park
Nestled between the Blackdown Hills and East Devon areas of outstanding natural beauty, Andrewshayes Holiday Caravan Park is the place to go for lovers of gorgeous natural vistas.
This family-run park is always welcoming, and with the beautiful surroundings, we're sure you'll want to extend your stay as soon as you arrive.
With only a 15-minute drive to the nearest beach, it's the perfect getaway. There's also nothing lacking in the children's entertainment department. With a heated indoor swimming pool, your kids can splash around happily for as long as they like.
Alternatively, they also have fully-furnished games rooms with a pool table and a dedicated toddler area and kids clubs.
The outdoor playground, table tennis facilities and local woodland walks are also not to be sniffed at, with plenty to keep the whole family entertained while you relax in the great outdoors.

Ruda Holiday Park
The jewel in the crown of North Devonshire camping spots, Ruda Holiday Park between the unbeatable Croyde Bay and Woolacombe Beach, is one of the spots you simply have to visit. With fantastic surfing and nearby Croyde having everything you could need on your trip, there's nowhere better to take your children on holiday.
The site itself has pool facilities, a trio of play parks and children's entertainment shows - perfect for parents who want a little privacy to unwind. Alongside the numerous tourer pitches, you can also find static caravans and lodges to book here.

---
If you are planning a motorhome holiday in the UK you may benefit from motorhome towbar fitting. Follow the link below for installation of the top approved brands of motorhome tow bars in the UK.