The Best Motorhome Routes In The UK
Posted by:
Admin
Tags:
Posted date:
28-07-2022
What are the best motorhome routes in the UK? We look at some fantastic motorhome trips you can take while travelling the UK.
There are many different ways to make a holiday, but for getting the most out of your journey and seeing as much as possible, nothing quite beats having a motorhome.
With the freedom these vehicles provide, you can visit multiple locations in one campervan trip without being tied to the immediate area around your hotel. And, after all, nothing beats the excitement of a motorhome road trip.
Motorhomes and campervans are the perfect vehicles for road trips, given that you'll be bringing all the comforts of home along with you. They also allow you to make your campervan holidays your own, without relying on timetables or pre-determined itineraries.
You can head out whenever you like to wherever you like, hence why they're so perfect for road trips that venture across the country from one remote destination to another.
This also means you get to see more, compared to staying in the heart of big cities, which will undoubtedly be the same as every other big city you've ever been to. You can strike out in any direction, finding hidden gems and seldom-seen natural beauty spots that few others will ever experience.
Campervan and motorhome holidays provide a true sense of adventure every time. And you don't even have to go that far to explore new places; there are plenty of motorhome routes right here in the UK with scores of secrets to uncover.
There are countless beautiful destinations throughout the countries of the UK for you to explore, with motorhome or campervan routes providing the best way to venture into every corner to discover them.
So, whether you own a motorhome or campervan, or whether you're renting one for your trip, we've decided to list some of our favourite motorhome routes throughout the UK.
Each of our motorhome holiday ideas gives you a wealth of options in terms of destinations and locations, but all of them are packed with surprises and adventures for you, your family and your friends to enjoy.
Motorhome Route Highlights
These routes will take you out into the countryside and wildernesses of the UK. After all, this is where motorhomes and campervans come into their own. Since you'll be travelling independently, you can spend as much or as little time in each location as you like, safe in the knowledge that you'll have a bed, some food and modern facilities all close at hand.
Cornwall, England
Cornwall is one of the most popular motorhome holiday destinations in the whole of the UK. And is it any wonder? The place is full of motorhome parks and campsites for you to stay at, alongside the glorious beaches, busy towns and picturesque villages to explore. Not to mention the stunning landscapes and vistas you can discover and the numerous attractions to entertain yourself with along the Atlantic Highway.
So, we couldn't really have started our list of motorhome routes any better, could we? Depending on which direction you're coming from, you'll either wind up on the M5 or A303, both of which can be nightmarish at the weekends. Therefore, for a stress-free trip, you're better off departing sometime in the middle of the week, with a stop or two along the way.
A good idea would be to visit the Eden Project in southwest England, beyond Dartmoor, on your way down. Of course, some roads around this end of the country can be narrow and tricky for larger vehicles, so bear this in mind when planning your road trip itinerary and route.

The Camel Estuary
One of the more popular spots in Cornwall, the Camel Estuary, truly has something for everyone. The Padstow Touring Park is one of the most frequented motorhome campsites, thanks to its excellent facilities. But if you want to ensure you can stay there, either book off-peak or secure yourself a pitch early. It provides the best launching point for exploring the wider Camel Estuary.
Naturally, there's nearby Padstow to explore, which is within walking distance of the Touring Park. Both the town and harbour are stunning to walk around, with some excellent food options. Of course, you could always work your way round to the other side of the estuary to Rock, where you can try your hand at surfing or body boarding.

St Ives
If you're going to Cornwall, you have to visit St Ives. It's the essential Cornwall destination, complete with beautiful beaches and a town full of restaurants with freshly caught seafood, bars and shops for you to check out.
For the culturally inclined, there are also a gaggle of famous galleries to visit, which gives St Ives a bit more of a civilised feel compared to more remote destinations on this list.
However, given the vribrant atmosphere of the place, you can imagine how busy it can get at peak times. So, if you're desperate to go, try and time it for when children are still in school and not on holiday.
If you need somewhere to stay, we'd recommend the Ayr Holiday Park, which is close to Porthmoer beach, with a coastal path that leads on to St Ives town.

Porthcurno & Around
If you're looking for a beach right on the end of the peninsula, you can do a lot worse than Porthcurno and the surrounding areas. The incredible sea views are watched over by the fantastic Minack Theatre, which is worth a visit in itself. For local history fans, you might want to try Mousehole and the Botallack tin mines. Senne Cove is also worth checking out as one of Cornwall's many gems.
If you time it right for when the tide is out, you can make your way to St. Michael's Mount from Penzance, with its dramatic scenery and ocean views. Trevedra Farm is also a fantastic campsite where you can pitch your motorhome while you explore the surrounding areas. They offer easy access down to the shoreline and always have a warm welcome ready for motorhome holidaymakers.

The Antrim Coast, Northern Ireland
A little farther afield is the Causeway Coastal Route around Northern Ireland. Of course, this may entail a ferry trip across the briny sea, but as motorhome routes go, this one can't be missed.
The unbelievable beauty of the Giant's Causeway and the wilderness famously photographed in the Game of Thrones scenery is well worth seeing. Derry-Londonderry has become a popular tourist spot and is the perfect place to end your route. But when it comes to starting your route, since you're coming over the water, you may as well see as much as you can.
Starting in Dublin is a great idea before turning north and heading to Belfast. While you're there, you might as well take a trip around the one-of-a-kind Titanic Museum. Naturally, if you want to get straight out on the road, you may as well head out straight from Stranraer to Larne.

Portstewart & Portrush
These two idyllic seaside towns are right next to one another, so they're the perfect places if you want to spend a day lazing on the beach with an ice cream in hand. Both have everything you'd want, from bars and restaurants to souvenir shops. However, if you want somewhere a little more active on a night out, then you should incline towards Portrush.
Portstewart is the more relaxed town, with some fascinating boutiques along the promenade for you to peruse at your leisure. But you can't go wrong for the best beaches in either town. Biking enthusiasts will also be familiar with these towns as they play host to the North West 200 race every May. If you want to spend a little longer in the area, we'd recommend the Juniper Hill Holiday Park for motorhome and campervan owners.

The Giant's Causeway
This UNESCO world heritage site has to be seen to be believed. The formation of the tens of thousands of basalt columns that rise and fall into the Atlantic Ocean occurred thanks to the volcanic nature of the area over 60 million years ago.
When it isn't sprawling with tourists, it's a truly spectacular place to ponder and reflect on the majesty of nature.
You can head up the Shepherd's Steps for a stroll along the cliff trail for a more dramatic aerial view. Craig House Campsite is probably your best choice for a motorhome campsite, given that it's located in an area of outstanding beauty.
It also offers a great point to head out from for other locations, such as Ballintoy Harbour, which you'll also recognise from Game of Thrones. There's also the Carrick-a-Rede rope bridge if you want to see if you have a head for heights.

Benone Beach
If you're looking to catch some waves on your way around Northern Ireland, Benone Beach, stretching from Castlerock to Magilligan Point, has a surf that would entice even the pickiest of surfers into their wetsuits. If you're more tempted by historical monuments, may we suggest the Mussenden Temple and Downhill Demesne?
There's even plenty for hardcore hikers to enjoy, with the Binevenagh mountain close by to the south. From the peak, you'll be able to enjoy some incredible views of Donegal and the coastline in the distance. Accommodation-wise, Golden Sands will be more than comfortable for motorhome and campervan owners.

Snowdonia & Anglesey, Wales
Back on the other side of the Irish Sea, those looking to take a motorhome trip through Wales will want to head north to Snowdonia. With huge skies, the awe-inspiring Brecon Beacons and stunning vistas to take in, this is truly one of the most dramatic areas of UK landscape.
There's also the Isle of Anglesey to visit for fans of fantastic beaches and hiking trails, just across the famous Menai suspension bridge. Travelling there is relatively straightforward. Taking the M5 in either direction, you'll want to work your way to the M6, which will eventually deliver you to Betws-y-Coed, which is considered the gateway to Snowdonia.
From there, you can either spend your journey winding through one of the UK's most famous national parks (we'd recommend) or head straight up to Anglesey - the choice is yours.

Newborough Beach & Llanddwyn Island
For beaches in Anglesey, you won't find much better in all the UK than Newborough. This stunning bit of coastline provides a theatrical view of rolling hills with the 2,000+ acres of Newborough Forest behind you. It's a good thing we all have cameras in our pockets these days, as you won't want to be forgetting one to capture the amazing views here.
If you fancy an adventure over the sand dunes and through the forest, you can head for the Llanddwyn Island Peninsula, with the stark ancient cottages and proud lighthouse dotting the incredible landscape. If you're thinking of making a journey around the coast of Anglesey altogether, this is probably the best place to start. For accommodation, look no further than Awelfryn Caravan Park on the other side of the forest from the beach.

Snowdonia National Park
Snowdon is one of the ultimate challenges for all hikers and climbers in the UK, so if you feel like testing yourself, why not give it a go? Of course, ensure you're prepared for the climb, as it can be hazardous with quickly changing weather.
The highest mountain in England and Wales shouldn't be underestimated, but conquering it will give you some of the best views the UK has to offer.
If hiking up a 1,000+ metre mountain isn't for you, there's always the train. This will deliver you up to the top of the mountain, where you can take in the breathtaking views before hiking down.
While it's always easier coming down, it's also the stint of any hike where most accidents happen, so bring some good hiking boots with you and plenty of provisions.
If you want to park your motorhome or campervan up for a few days, we recommend the Bryn Gloch Caravan and Camping Park.

Betws-y-Coed
The gateway to Snowdonia. Nestled in the Conwy Valley, Betws-y-Coed is a typical mountaineering town - full of hiking shops which are, in turn, full of hikers. You'll have no trouble picking up some equipment and clothing from one of the many shops selling outdoor gear, with plenty of outdoor activities and adventure tour providers guaranteeing you a fantastic time. If you're desperate to find out the latest climbing gossip, simply head into one of the local pubs and get chatting.
As you can imagine, this is the perfect place to launch out on an adventure trip. Therefore, if you love outdoor sports and activities, we recommend starting your motorhome tour here. You can do almost anything you can imagine, from climbing and hiking to mountain biking, abseiling and zip-lining. Not to mention the local scenery at Swallow Falls or Fairy Glen that are not to be missed. The Riverside Touring Park is also very welcoming to motorhomes and campervans.

The Lake District, England
Keeping with the adventure theme, the Lake District is possibly the most famous outdoor destination in Northern England. The national park nestled in southwest Cumbria is a veritable chocolate box of gorgeous views, beautiful landscapes, pub-filled towns and boat trips.
Ambleside, Keswick and Bowness are where you'll find the rare spots of civilisation; otherwise, you'll have to make do with miles and miles of remote wilderness, looming mountain passes and ancient tarns. The M6 will take you straight there, meaning it's fairly accessible for motorhomes or campervans. Of course, it may become a bit narrower once you're deep into the Lakes, so be prepared for some careful driving.
The entire place is full of camping sites and caravan parks for you to stay at, so long as you book early, given how busy it can be during the summer and peak holiday times. There's also the beautiful Peak District an hour or two down the road if you want to extend your journey.

Ullswater
Despite the name, Ullswater is a lake and so does belong in the Lake District. It's also located in one of the most beautiful fells in the entire region. Here you'll find the stunning Aira Force Waterfall, which is one of the easier walks through the Lake District. Of course, there are plenty of more challenging ones if you want to test yourself.
But, again, like Snowdonia, don't push yourself too far if you're unprepared or inexperienced. But there's plenty to do besides hiking in the Lakes. Ullswater has a host of water sports and adventure activities to take part in. From wild swimming in the landscape that inspired Romantic poets like William Wordsworth to paddle boarding and boat trips, there's so much here for campervan owners to enjoy during their adventure. Gillside Farm is one of the best places to stay, as it puts you right at the foot of the mighty Helvellyn.
Keswick
You'll find Keswick a the very top of the Lake District, but don't worry if you're coming from the south; it's well worth the journey to reach it.
Set between the Skiddaw mountains, famous for the site of many fell running competitions, and the gorgeous Derwentwater, this market town has everything you'll need.
Castlerigg Stone Circle is a must-see, if only for the views, and a cruise along the water is always a great idea.
Hikers and fell runners are well catered for, with easy trails up Catbells and the surrounding rugged mountains being achievable for even the most amateur mountaineers.
Wild camping isn't usually encouraged near towns or villages, although you can get away with it in more remote areas of the Lakes.
You'll find the Derwentwater Camping and Caravanning Club near Keswick, which is one of the best motorhome or campervan sites in the entire region.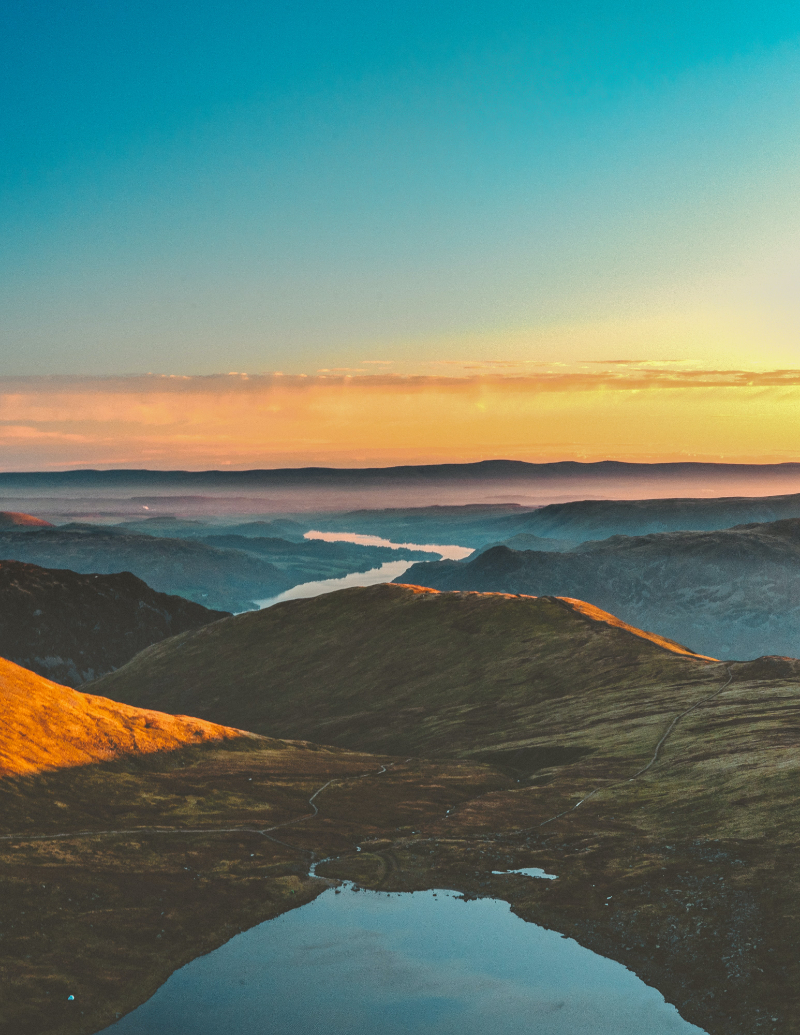 Honister Slate Mine
In the valley of Borrowdale at the southern tip of Derwentwater, you'll find Honister Pass. This is where you'll find the Honister Slate Mine, the last working slate mine in the whole of Europe. The visitor centre offers you the opportunity to take a guided tour underground through the mine and a range of other activities to participate in, including the Via Ferrata climbing tour (not recommended for those afraid of extreme heights) to view the dramatic landscape.
You'll find it difficult to drive larger motorhomes through the Honister Pass, as it has a width restriction of 6.5 feet. But, if you can make it into Keswick from your chosen pitch, you can catch a bus that will take you straight there. Alternatively, you can stay at Chapel House Farm in Borrowdale.

The New Forest, England
The New Forest offers motorhomes and campervan owners a real opportunity to explore. Planted in 1079 by William the Conqueror (after he'd finished conquering, obviously), there's a real sense of being surrounded by ancient wilderness. It's also home to innumerable wild species, from boar to cattle to deer and much more besides.
We recommend autumn for those planning a visit, given that it'll be free of tourists and the colours will be turning. Like the Lake District, there are also plenty of activities to keep you busy, from hikes to cycling and water sports. The M3 and M27 make it one of the easier spots to reach with your motorhome, with plenty of stopping spots along the way for lunch.
You won't be able to get away with any wild camping here since the rangers will move any vehicles around sunset. But you could always extend your motorhome route down through Dorset to the Jurassic Coast for some fossil hunting.

New Forest Water Park
Over to the west is the New Forest Water Park, with even more activities for you to try. From the inflatable aqua park to try your hand at wakeboarding, kayaking and paddle boarding, there's plenty for the active and adventurous to dabble in.
The Red Shoot Camping Park is probably your best bet for campervan trips. It's only a few miles away from the Water Park at the edge of the forest.

Brockenhurst
The village of Brockenhurst offers a fantastic base from which to head out on any hikes or cycling trips you'd want to make. You can find it on the south side of the forest, complete with plenty of pubs and a fantastic fish and chip shop to keep you fed and watered.
And don't worry if you don't have any bikes yourself; there are plenty of places offering rentals and routes which you can follow to see the most of the forest.
Regarding your camping options, we'd recommend Hollands Wood Campsite, which is run by the Camping in the Forest organisation.
They own and manage some of the best motorhome parks in the entire forest, with modern facilities and plenty of space. Their site is also within walking distance of Brockenhurst, making it the perfect spot.

Lymington
While not technically part of the New Forest, we think Lymington is definitely worth a visit while you're in the area. You'll find the market town down on the coast, across the Solent from the Isle of Wight.
You can always take a trip over to the island if you like or visit Hurst Castle, built by Henry VIII. There are also the seawater swimming baths for you to try. Harry's Field is always welcoming to motorhomes and campervans if you're looking for a place to stay.

The North Coast 500, Scotland
This is one of the most iconic motorhome tour routes in the United Kingdom. Also known as the NC500, this route will take you through all that Northern Scotland has to offer, from dramatic coastlines to the awe-inspiring Scottish Highlands, the Cuillin Mountain Range and towns like Fort William.
The entire route will take you a few days, if not weeks, depending on how fast you plan on seeing everything.

Sutherland
A large portion of the route will take you through Sutherland, which is one of the last remaining untouched pieces of wilderness in Europe. With the North Sea out of your right-hand window, the unspoiled scenery will have you in awe at every turn.
From the Cape Wrath Cliffs to the numerous beaches, there's plenty to feast your eyes on. Clachtoll Beach Campsite is one of the best campsites for motorhomes in the whole of Scotland, but you could always go wild camping in the rugged terrain if you want a real adventure.

Inverness
Inverness acts as the starting and finishing line of the NC500 if you ever feel like leaving such a fantastic city.
Nearby Loch Ness is the perfect place for would-be monster hunters to try their luck, while Inverness Castle and the ancient battlefield of Culloden offer something for the history buffs out there.
There are also plenty of locations for fans of the Outlander series to see. If you don't want to stay in the city itself, we recommend the Bunchrew Caravan Park by the Beauly Firth as a place to stay.

Caithness
Caithness is probably more famous for the towns of John O'Groats and Dunnet Head that reside within it. It's where you'll find the very tip top of the UK. If you time your journey right, you may even be able to witness the Northern Lights from this part of Scotland.
The intimidating sea stacks and headlands around the coastline are also home to thousands of seabirds. Dunnet Bay Caravan and Motorhome Club Site is probably your best choice for motorhome or campervan camping in this area of Scotland.

Norfolk, England
Notoriously flat but equally as beautiful, Norfolk has something to offer any fan of the sea. From famous seaside towns like Cromer to the Norfolk Broads, there's nothing but vast skies and calm water during certain times of the year.
There's also a giant nature reserve full of bird species and wildlife for nature lovers to spot, which you can explore either by land or by water. Easily reached by the A11 or A47, which takes you on through to Norwich, Norfolk is one to tick off the bucket list.

Norwich
Norwich is an ancient town with some fantastic history to discover for those who want a little city life outside of the wilderness that surrounds it. One of the best preserved medieval cities in the UK, the old Norman Cathedral being a particular favourite.
Of course, being a city, there are plenty of bars and restaurants to visit as well, besides the independent boutique shops down Norwich Lanes. For stays outside of the city, you'll want to head for Whitlingham Broad Campsite, from which you can hire bikes or canoes to explore the surrounding area.

Sandringham
Naturally, while you're in town, you may as well drop in on the royals. The Royal Sandringham Estate sits in the middle of some truly beautiful woodlands, with plenty of walks, house tours and museums to visit nearby.
You can even visit St Mary Magdelene Church, which is where Her Majesty the Queen attends Sunday service while staying at Sandringham.
There's even the Sandringham Camping and Caravanning Club Site nearby for you to stay at as you journey through on your UK motorhome holiday.

Blakeney
The seaside village of Blakeney sits within an area of outstanding natural beauty, with a nature reserve full of open vistas and salt marshes. You can try your hand at catching crabs in the rock pools or head out to Blakeney Point, where you're sure to see some of the local Common and Grey Seals in the water.
Highland Creek Camp Site offers the perfect place to pitch your motorhome or campervan while you're out exploring this fantastic stretch of UK coastline.

Are you looking for motorhome towbar fitting in Lincoln And Lincolnshire? We have a huge range of motorhome towbars available and would love to discuss this with you.