Why Caravanning Holidays Are Great for Your Health
Posted by:
Admin
Tags:
Posted date:
31-08-2022
Find out why caravanning holidays are great for your health. We look at the many benefits of choosing caravan holidays.
Caravan holidays have always been popular here in the UK, but that popularity is always rising. With around 15 million Brits heading to camping and caravan parks every year, you might wonder what it is about caravanning that attracts so many people. Besides the fact that owning a caravan is much cheaper than travelling abroad on holiday, it also has some fantastic benefits for your health.
Owning a caravan helps you get into the great outdoors much easier, which is just a small part of how they can help improve your health and give you a good serotonin boost. But let's look at other ways caravan holidays provide great health benefits long after you return home.

Bonding Time With Your Family
Spending quality time with your family is one of the best ways to maintain good health and live a happy life. According to studies by the Camping and Caravanning Club, over 90% of children agree that spending time in the great outdoors with their parents improves their happiness. In the same way, around 80% of children found their parents less stressed when holidaying in a caravan, allowing them to create happy memories of their trip.
Besides the obvious benefits of making parents and children happier when out on a camping holiday, caravanning and the access it provides to the outdoors brings added benefits. The most important of these is that it can improve your children's learning and behaviour. Spending good time with your family can promote higher confidence and positive behaviour in children, foster stronger connections and boost self-esteem later in life.

Lower Stress Levels
Unless they're incredibly lucky, no one gets through life without some stress. However, one way to reduce the stress in your life and bring about a balanced and positive mood is by getting out in nature.
Even for those stuck in the same four walls in offices five days a week, if you can view a little greenery from where you sit, even this can reduce your stress and improve focus and concentration levels. If it only takes that much to create a more natural alignment, imagine what owning a caravan and being able to disappear into the wilderness at a moment's notice can do!

Getting Outdoors
Simply being outdoors is incredibly beneficial for your physical and mental health.
Not only will you be getting more physical exercise through a more active trip when out on a caravanning holiday, but being out in the natural world is proven to improve your mood and boost your Vitamin D levels with all that sunlight you'll be getting.
Owning a touring caravan or motorhome provides the perfect way for you, your family and your friends to escape urban living to the stunning scenery and peaceful bliss of the countryside and reap all the mental health benefits it provides.

Keeping Fit
Most people will go on a diet before they go on holiday to counteract all the extra food they usually eat when relaxing in the sun. However, it's a proven phenomenon that people will do more exercise when travelling in a tourer or motorhome.
This is most likely due to the fact you'll no doubt make a conscious effort to head out on regular walks for long periods or learn valuable skills and gain knowledge when caravanning compared to other holidays. Therefore, there's no need to put extra effort into keeping fit when caravanning; you'll do it naturally through carefree and simpler living.

Refreshed & Revived
Caravan holidays provide the perfect way to unwind from stressful periods, allowing you to refresh your body and revive your mind and all the senses, benefiting from all the ways good mental health relates to your overall health. You and your family can get a healthy dose of fresh air, and your kids can play outside while being in nature counters all the adverse effects of stress.
The perfect combination of natural surroundings, stunning scenery, fantastic company and activities to get your endorphins flowing make caravan holidays one of the best ways to recharge your batteries, boost wellbeing and improve your outdoor skills. Not only will it help you reduce stress and truly relax, but you'll also get back home feeling refreshed and thoroughly rejuvenated.

Caravan Holidays Are Relaxing
Compared to the stress of international travel, caravan holidays are simply far more relaxing.
Consider the timetables, train or flight schedules, hotel bookings, restaurant reservations and all the other time demands you have to deal with on a traditional holiday.
Then contrast all that with the freedom to escape to nature asap, whenever you want on a caravan holiday.
So long as you have a local pitch, you can travel wherever you like and do whatever you like on a caravan holiday. There are no timetables to follow, allowing you to take a break at your own pace.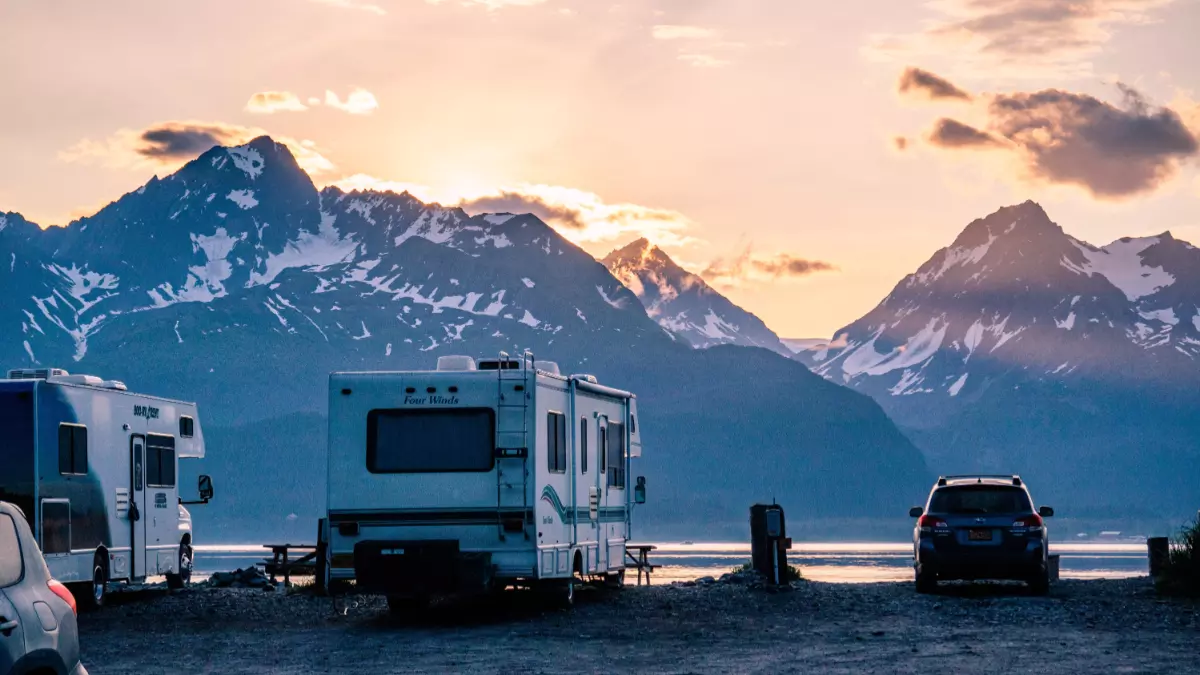 Other Benefits Of Caravan Holidays
Travelling abroad is fraught with worries these days. With stories in the news about cancelled flights and staff shortages, jetting off to foreign lands is riskier than ever. Imagine the scene: you return to the airport on your journey back home, only to find that there are no flights, and you are stranded, forced to pay for additional emergency nights in a hotel. Aside from the constant worry, holidays abroad are also more expensive and require much planning.

Given all this, it's not surprising that most people are choosing staycations instead. Holidaying here in the UK avoids all of the hassle mentioned above. And, as you can probably guess, the best way to enjoy a holiday here in the UK is with a caravan. Here are some of the other benefits that caravan holidays offer compared to holidaying abroad.

Hiring mobile or static caravans at holiday parks for a rural break with no phone signal is significantly cheaper than a hotel room, helping you save money. Additionally, it's even more cost-effective if you book a pitch at a local caravan park.
Nearby parks also offer you the opportunity to get away whenever you like. Also, most caravan sites have plenty of attractions and entertainment for all the family to enjoy.
You'll find that most UK caravan parks are in great locations with numerous attractions in the surrounding areas.
They always give you plenty of holiday options to enjoy fun activities wherever you go, so even if you're unfamiliar with the area around your holiday destination, you don't need to worry; you can take advantage of woodland trails, bike rides or various tours operated by holiday parks.
Given the popularity of caravan holidays in the UK, you'll find that most of the on-site facilities at holiday parks are fantastic. This is especially true for families, with many sites throughout the UK having attractions specifically catered to children.
The British public has had a love affair with caravanning for decades, with many of us having spent a summer or two with our families at one campsite or another. What better way to capture memories from your past than taking your family away on a caravan holiday?
Hotel rooms tend to feel cramped, especially if you take your children with you. You might find that you're living on top of each other throughout the challenging experience, potentially making things more stressful.
Whereas, on static caravan holidays or at a holiday home, for example, you'll have your own rooms, with communal living areas and maybe even an outdoor patio or decking area with plenty of space.
You can't beat a caravan holiday for socialising. When you choose a particularly popular holiday park, there's a good chance you'll meet other caravanning enthusiasts and make new friends before arranging to meet up with them on future camping trips.
Again, one of the major benefits of any caravan holiday is the access it provides to the great outdoors. There's no better way to get into nature's natural light than when travelling and staying in a caravan.
From your pitch, you'll have ample opportunity to explore the surrounding forests and wildernesses right on your doorstep. Not to mention the boost to your feel-good hormones and endorphins while you're there.
---
If you are planning a motorhome holiday in the UK you may benefit from motorhome towbar fitting. Follow the link below for installation of the top approved brands of motorhome tow bars in the UK.